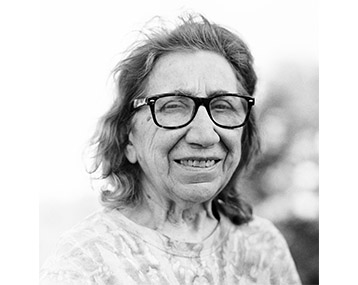 Sister Grace Miller to Receive Human Service Lifetime Achievement Award
The Executive Board of the Federation of Social Workers is proud to announce that they have selected Sister Grace Miller from the House of Mercy, to receive their 2020 W. Burton Richardson Lifetime Achievement Award. The award will be presented at the 16th Annual Human Service Worker of the Year Awards luncheon. Details about the award presentation format and venue will be forthcoming.

In a city ranked among the poorest in the nation, The House of Mercy is a vital refuge for people who have nowhere else to turn. It would not exist without the tireless efforts of Sister Grace Miller, the woman some people call "Rochester's Mother Teresa". The House of Mercy provides food, clothing, shelter, healthcare services and many other forms of assistance to thousands of extremely poor people in Rochester every year.

Grace Miller's story is inspiring.

Grace grew up in poverty. She made the decision to devote her life to God. In the 60s, after a riot forced Rochester to face up to the vicious discrimination experienced every day by people of color, she joined the Civil Rights movement. Fast forward to the early 1980s, she volunteered at a homeless shelter. She learned that homelessness in a city with freezing temperatures and 100 inches of annual snowfall is not a tragic situation, it's a life-threatening condition. At night, on her way to social justice meetings, she would see homeless people struggling through the snow. She would pull over to the curb and offer to take them to a shelter, give them a hot meal, or simply let them warm up for a few minutes in her car.

One night there was a terrible blizzard. She hopped in her car and found three men on the streets. Fearing that their lives were in jeopardy, she got them into her car and tried to find them a safe place for the night but all the shelters were full. Even a church turned the men away. Finally, she convinced one church to take the men in. The experience left her angry but determined. Rochester needed one place that would never turn people in need away, she thought.

Sister Grace Miller founded The House of Mercy, a mission based in one of the poorest neighborhoods in town that originally consisted of a small rented house, a single donated desk. She told people she was there to help them any way she could. By the end of the first week, hundreds of people were coming to her door. She would be mobbed in the morning when she parked her car on the street. An amazing thing happened that became a House of Mercy tradition, many of the people who came for help were inspired by what Sister Grace was doing and wanted to help others. Some of them stayed for decades; cooking, cleaning, handing out food and clothes, helping the mission survive on a shoestring budget. One woman cooked an estimated 70,000 meals for hungry people over 30 years. Two others cooked even more.

The House of Mercy moved to a new location on Hudson Avenue. Fifteen years later, another crisis got her attention. Homeless people were being evicted from the Civic Center Garage, a man made area where they sought shelter during terrible weather. There were protests and attempts to set up temporary shelters for the winter. Then supporters of The House of Mercy pulled together to help Sister Grace find a new home for her mission on Ormond Street. This time homeless people would have real beds to sleep in instead of the old couches in the living room on Hudson. It was the beginning of a new era for the mission. The greatest benefit of the new home from Sister Grace's viewpoint was that it would give her the ability to help more people than ever before.

The shelter has almost 100 people every night and provides: meals, school backpacks filled with supplies for children every September, food baskets and gifts for hundreds of families every holiday season. There is something more that The House of Mercy has always provided: love and acceptance and hope to people who have suffered from extreme poverty, mental illness, lifelong trauma, addiction and hopelessness.

Ever since the Civil Rights movement of the 60s, Sister Grace Miller has been a strong voice in our community for the poor, the homeless, people with mental illness who have been abandoned on the streets, people of color, people who face discrimination in housing and employment, and others who have few effective advocates in a world where empathy and compassion are increasingly becoming endangered values. She has been stopping to help people for more than 50 years. She has worked 12,000 long days to help the poor. The last paycheck she took from the mission she founded - was in 1992. She has made the Rochester community a better and more compassionate place.