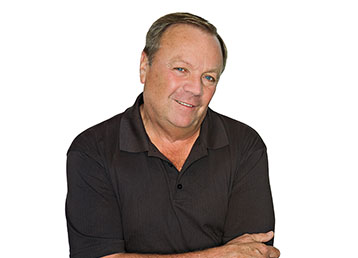 STEVE HAUSMANN TO RECEIVE HUMAN SERVICE LIFETIME ACHIEVEMENT AWARD
The Executive Board of the Federation of Social Workers is proud to announce that they have selected local media celebrity, Steve Hausmann, to receive their 2019 W. Burton Richardson Lifetime Achievement Award. The award will be presented at the 15th Annual Human Services Worker of the Year luncheon on November 1, 2019 at the Joseph Floreano Rochester Riverside Convention Center.
Previous Lifetime Achievement honorees have included: Congresswoman Louise Slaughter, Sheriff Andrew Meloni, Garth Fagan, Mayor William Johnson, NYS Lt. Governor Robert Duffy and Mary Whittier of the Bivona Child Advocacy Center.
Regarding the award, Mr. Hausmann stated: "It is difficult to find the words to express how honored I am to join the likes of those who have previously received this award. For years, I have been able to introduce these fantastic community leaders for their life of service, at this wonderful event. That, in itself, has been a unique privilege."
Steve Hausmann's fifty-plus year career in the communications industry has been coupled with an outstanding record of community service. It has included serving as Chairman of The Monroe County Sports Commission for nearly twenty years, a close relationship with the Monroe County Sheriff's Department, New York State Police, Holy Childhood (where he played a key role in their re-branding project), the Federation of Social Workers, Alyssa's Angels, Ronald McDonald House Charities and NYS Special Olympics. Steve has also been honored by both the Rochester Press Radio Club and the NYS Broadcasters Association for his professional excellence in broadcasting. His community involvement also includes emceeing and hosting several charity golf tournaments every season, in addition to hosting the Human Service Luncheon for every year that it has been held.
Federation of Social Workers President Kendall Bell stated,"We are very proud to be honoring Steve Hausmann for his extraordinary career of human service. He has been an incredible contributor to our community and is an extremely deserving recipient of this award."
With this announcement, the Federation will also begin accepting nominations from the community for a variety of human service awards for both individuals and organizations. The deadline for submitting nominations is Monday, September 23, 2019. An online nomination form, which includes a complete list of awards and categories for the 2019 Human Services event is available
here
.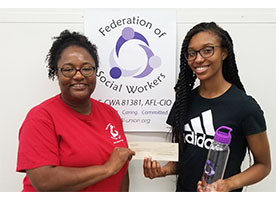 2019 Scholarship Winner Announced
The Federation of Social Workers is proud to announce that the 2019 winner of the Ed Grabowski/Dina Finn Memorial Scholarship is Chynna Sharp. Congratulations, Chynna!

Chynna is a recent graduate of Greece Athena High School, who will be attending Nazareth College in the fall to study physical therapy. She has volunteered at hospitals, food kitchens, the Greece Town Hall and at a physical therapist's office. The Federation of Social Workers wishes Chynna Sharp great success in her future academic endeavors.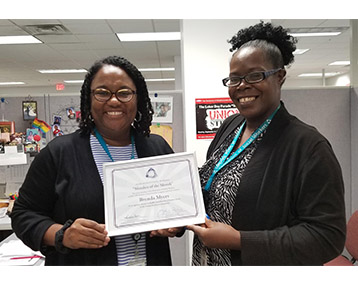 Federation of Social Workers
"Member of the Month"
We are pleased to announce a new program that will recognize a Federation
"Member of the Month"
. This person will be honored for his or her outstanding contributions of service to the entire community.
There will be a
"Member of the Month"
recognized every month, year around. If you would like to nominate a FSW Member who has done exceptional professional, volunteer, or other community service, please fill out this nomination form.
Click Here for the Nomination Form
Each month's honoree will receive a
$100 gift card
to the restaurant of their choice, courtesy of the Retirees Council of the FSW, Modica Law Firm and Edge Advertising Group.


Our honoree for August 2019 is Brenda Myers. Please click below to learn more about his valuable contribution of service to the community.
Member of the Month
Congratulations, Brenda Myers!
Kendall Bell Interview on "Shift Change" Local Radio Show
About The Federation of Social Workers
The Monroe County Federation of Social Workers, IUE-CWA Local 81381, is the oldest public sector social worker union in the United States of America. During our more than fifty years of existence we have provided diligent representation to our membership, which now includes more than nine hundred employees of the County of Monroe in upstate New York.

Our members are dedicated human service professionals who are both caring and committed to the entire community. Their tireless efforts at their jobs, and also as volunteers supporting many local charities, have improved the quality of life for everyone in Monroe County.