IMPORTANT UPDATE ON THE 2020-21 HUMAN SERVICE AWARDS PROGRAM!
In light of the ongoing uncertainties surrounding the COVID-19 pandemic, the Federation of Social Workers has decided to reschedule our 16th annual awards luncheon. The event is now set for Friday, October 29, 2021 at the Joseph A. Floreano Riverside Convention Center.

As a result, we have also extended the deadline for nominations in the various categories to Wednesday, September 8, 2021. To make a nomination, please click on the button below to access our online nomination form. Our honorees have traditionally come from a wide range of human service professions including social work, healthcare, education, law enforcement, legal and others. Awards are also presented to volunteers, corporate contributors, nonprofit organizations and students. Please don't hesitate to make a nomination!

During the unprecedented challenges of the pandemic, human service workers have made unimaginable and invaluable contributions to helping those in need. We are anxious to have the community identify those individuals and organizations for their extraordinary and heroic efforts, both as professionals and as volunteers.

Our Lifetime Achievement Award honoree for 2020-21 is Sister Grace Miller of the House of Mercy. The response from the community to her selection has been overwhelming!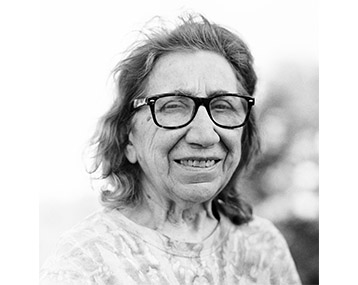 SISTER GRACE MILLER TO RECEIVE HUMAN SERVICE LIFETIME ACHIEVEMENT AWARD
The Executive Board of the Federation of Social Workers is proud to announce that they have selected Sister Grace Miller from the House of Mercy, to receive their 2020 W. Burton Richardson Lifetime Achievement Award. The award will be presented at the 16th Annual Human Service Worker of the Year Awards luncheon. Details about the award presentation format and venue will be forthcoming.

In a city ranked among the poorest in the nation, The House of Mercy is a vital refuge for people who have nowhere else to turn. It would not exist without the tireless efforts of Sister Grace Miller, the woman some people call "Rochester's Mother Teresa". The House of Mercy provides food, clothing, shelter, healthcare services and many other forms of assistance to thousands of extremely poor people in Rochester every year.

Ever since the Civil Rights movement of the 60s, Sister Grace Miller has been a strong voice in our community for the poor, the homeless, people with mental illness who have been abandoned on the streets, people of color, people who face discrimination in housing and employment, and others who have few effective advocates in a world where empathy and compassion are increasingly becoming endangered values. She has been stopping to help people for more than 50 years. She has worked 12,000 long days to help the poor. The last paycheck she took from the mission she founded - was in 1992. She has made the Rochester community a better and more compassionate place.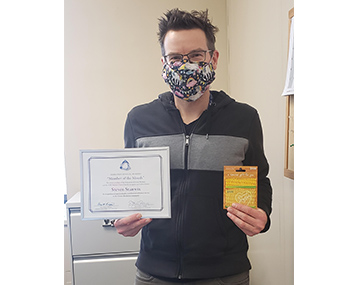 Federation of Social Workers
"Member of the Month"
We are pleased to announce a new program that will recognize a Federation
"Member of the Month"
. This person will be honored for his or her outstanding contributions of service to the entire community.
There will be a
"Member of the Month"
recognized every month, year around. If you would like to nominate a FSW Member who has done exceptional professional, volunteer, or other community service, please fill out this nomination form.
Click Here for the Nomination Form
Each month's honoree will receive a
$100 gift card
to the restaurant of their choice, courtesy of the Retirees Council of the FSW, Modica Law Firm and Edge Advertising Group.


Our honoree for February 2021 is Steven Stanwix. Please click below to learn more about his valuable contribution of service to the community.
Member of the Month
Congratulations, Steven!
Message from FSW President Ebony Burgess
Being a union member means that you will always have someone in your corner fighting for you. Bob Crow once said If you fight you won't always win. But if you don't fight you will always lose. We are stronger together!!!
81381 FSW Member Contact Form
During this time of crisis, it is critical that the union has accurate and up-to-date contact information for ALL FSW members, so we can provide important updates easily and effectively. Please take a moment to complete this form with your information and encourage your colleagues to do so as well.

Your information will not be shared with anyone or used for anything other than union business.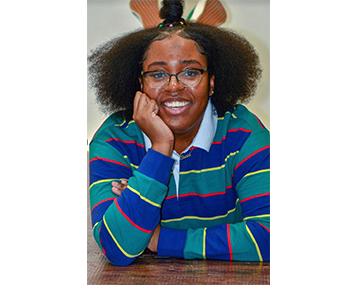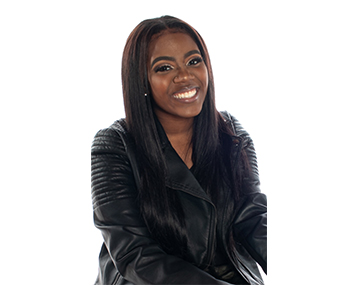 2020 Scholarship Winners Announced
The Federation of Social Workers is proud to announce the 2020 winners of the Ed Grabowski/Dina Finn Memorial Scholarship, J'Anna Worth and Dasia Alston.

J'Anna Worth is a recent graduate of World of Inquiry High School. She will be attending North Carolina A&T and studying Architecture Engineering. Worth participated in the Labor Day parade, Federation of Social Workers Labor Day picnic and the 2019 UAW strike. She has also been an active member in junior missionary, student council and Roc Restorative.

Worth stated, "As a participant in these groups, it has allowed me to flourish as a leader and a volunteer. After high school, my goals are to go to college and major in Architecture – with plans of bringing my knowledge and skills back to the Rochester community."

Dasia Alston is a 2020 graduate of Athena High School who will be attending the University of Albany in the fall and studying Biology. Alston assisted at the Federation of Social Workers Labor Day picnic and helped tutor a young student. She has volunteered at Unity Hospital as a patient transporter and been involved in National Honors Society.

Alston said, "My aspirations in life are to be a voice for the people, and become a doctor along with engaging in activism and philanthropy so that I am able to help people – mostly the working and lower class people. I would like to to become an asset in helping aid people to better wages, more resources and better protection."

The Federation of Social Workers wishes J'Anna Worth and Dasia Alston great success in their future academic and professional careers.
FSW Deeply Appreciates Mask Donations
The members of the Federation of Social Workers are extremely grateful to Sheila Foery and Diane Leas for donating masks to our essential workers. Thank you so much for helping to keep our members safe!
Mask and hand sanitizer donations are still being accepted for workers.
Contact: Christina Christman at
c.m.christman@hotmail.com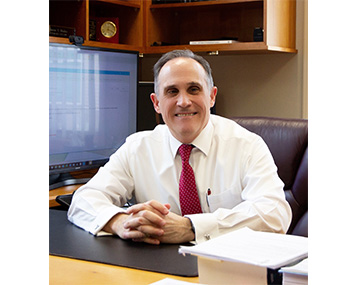 Monroe County Bar Association Honors Steven V. Modica, Esq.
Attorney Steve Modica has been selected to receive the 2020 Adolph J. Rodenbeck Award by the Monroe County Bar Association. This award recognizes a legal professional who lives and works by the Hon. Adolph J. Rodenbeck's exemplary example of professionalism and community service.

Steve Modica has been a loyal supporter of the Federation of Social Workers and its charitable events for many years. All of us at FSW want to congratulate Steve on this tremendous honor!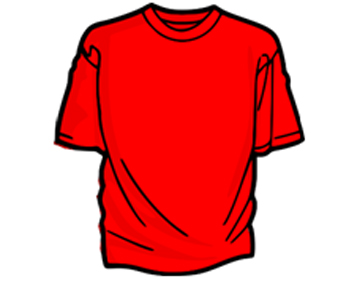 Wear Your RED Shirt on Thursday
Stuck at Home? If you are an FSW member, wear your RED Shirt on Thursday and post it on the FSW Facebook Page. Once you return to work find LaTonya, Evelyn or Michelle A for your ticket!
Federation of Social Workers Election Results
February 11, 2020
Congratulations to the winners and thank you to everyone who ran for these important positions.
President
Winner - Ebony Burgess


Westfall Steward
Winner - Andrew Bynoe


CSEU Steward
Winner - Teresa Harvey


MCCC Steward
Winner - Lennie Murrell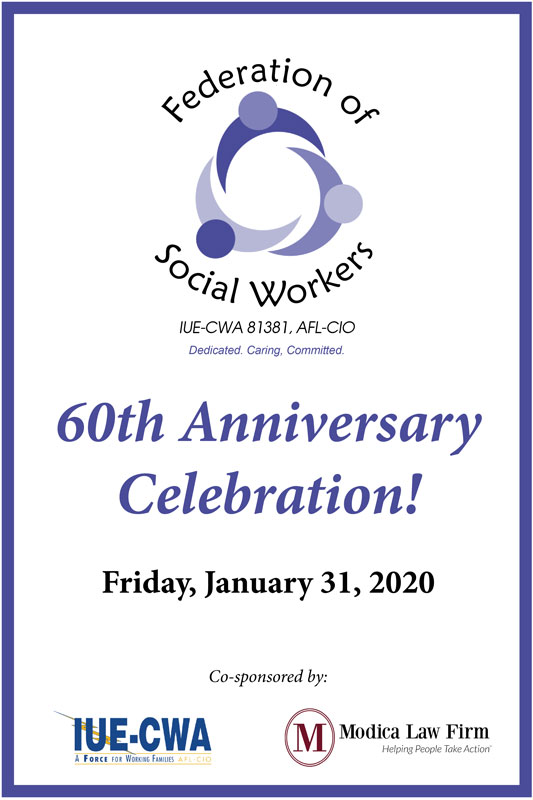 Federation of Social Workers 60th Celebration
On January 31, 2020, the Federation of Social Workers held a celebration to mark the union's 60th Anniversary! Attendees included active and retired members, as well as many past presidents and officers. We are extremely grateful to Modica Law Firm and the IUE-CWA for their co-sponsorship of this event. Their continued support of the Federation is deeply appreciated!
2019 Human Service Awards Luncheon!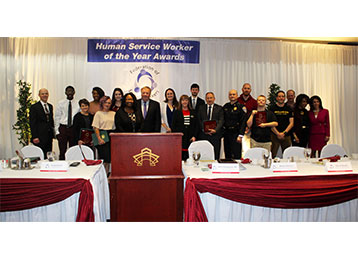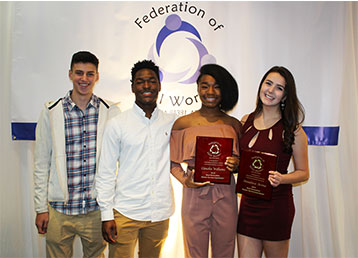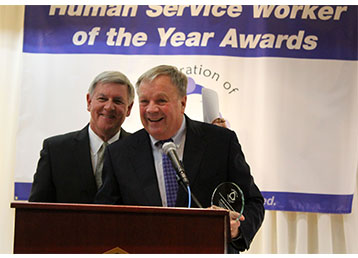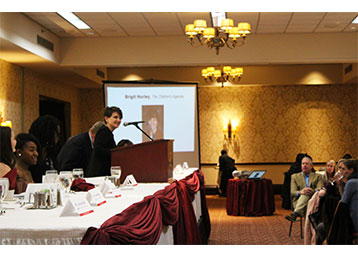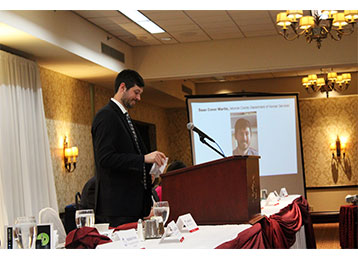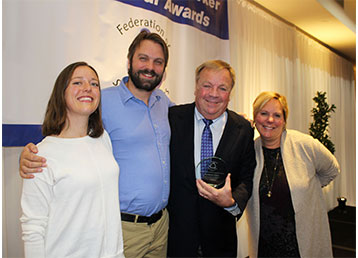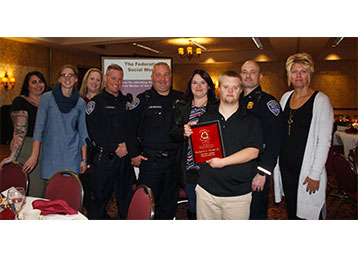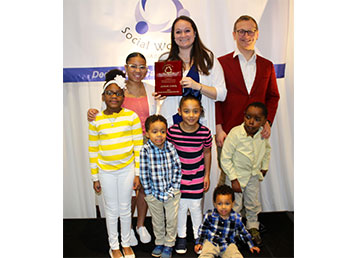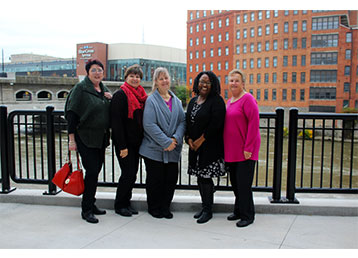 The Federation of Social Workers would like to thank all of our 2019 honorees, sponsors, attendees, nominators and those who supported this year's event in any way. As in years past, the celebration was an inspirational and memorable experience for everyone.
Kendall Bell Interview on "Shift Change" Local Radio Show
About The Federation of Social Workers
The Monroe County Federation of Social Workers, IUE-CWA Local 81381, is the oldest public sector social worker union in the United States of America. During our more than fifty years of existence we have provided diligent representation to our membership, which now includes more than nine hundred employees of the County of Monroe in upstate New York.

Our members are dedicated human service professionals who are both caring and committed to the entire community. Their tireless efforts at their jobs, and also as volunteers supporting many local charities, have improved the quality of life for everyone in Monroe County.