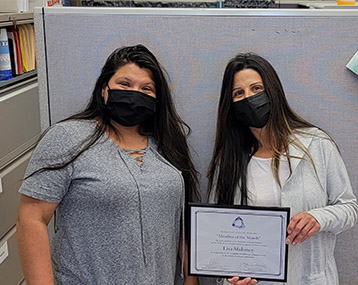 Federation of Social Workers
"Member of the Month"
Since 2018, the Federation of Social Workers has sponsored a program which recognizes a "Member of the Month". This FSW member is honored for his or her outstanding contributions of service to the entire community.
There will be a
"Member of the Month"
recognized every month, year around. If you would like to nominate a FSW Member who has done exceptional professional, volunteer, or other community service, please fill out this nomination form.
Click Here for the Nomination Form
Each month's honoree will receive a
$100 gift card
to the restaurant of their choice, courtesy of the Retirees Council of the FSW, Modica Law Firm and Edge Advertising Group.


Our honoree for August 2021 is Lisa Maloney. Please click below to learn more about her valuable contribution of service to the community.
Member of the Month
Congratulations, Lisa!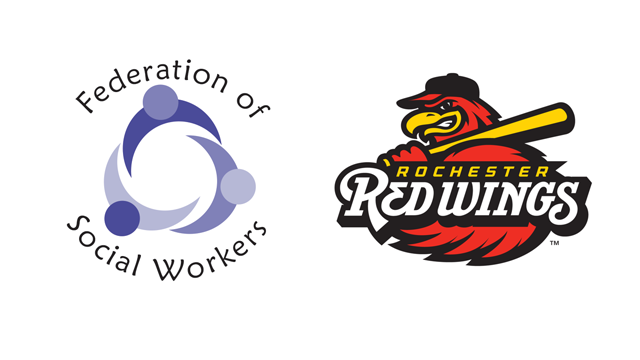 Join FSW for Union Night @ Frontier Field
Friday, August 20th 2021 7:05 pm

4 FREE Tickets per household
**Must be a current FSW member**

Email: message@fsw-union.org
Put Red Wings in the Subject Line and include your name, phone number, and # of tix in the email
Deadline to RSVP: August 16th 5 pm
Tickets will be picked up at Will Call at the gate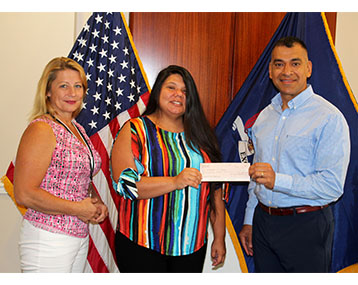 FSW Donates to Veterans Outreach Center
The Federation of Social Workers made a donation to the Veterans Outreach Center in loving memory of our union sister Heidi Yandricha-Strocko. Heidi was involved with many volunteer FSW projects, which helped both veterans and the entire Rochester community.
New Stewards Being Sworn In!
Grievance Co-Chair Michelle Alaimo (far right) swears in new FSW stewards (from left to right) Curtis Pound, Kylie Ciufo and Deb Jackson. Thank you all for taking these important positions.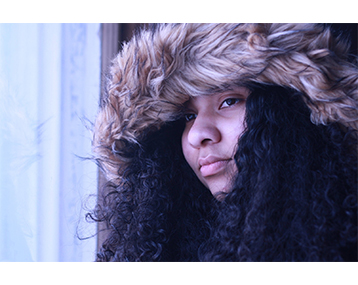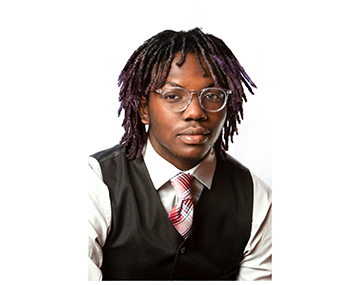 2021 Scholarship Winners Announced
The Federation of Social Workers is proud to announce that the 2021 winners of the Ed Grabowski/Dina Finn Memorial Scholarship, are Emanual Anderson and Carina Christman.

Emanual Anderson is a 2021 graduate from Penfield High School and will be attending the Rochester Institute of Technology where he will be majoring in Exploration Engineering. Emanual participated in the Labor Day Parades for numerous years and the Breast Cancer Awareness Walk, volunteered during the summer concert, and assisted with mass mailings

He stated, "As a child I learned a lot about unions and their functions from my mother. It was just as normal for her to bring me to her different union events as it was for her to be at all of my sporting events. It was an expectation that the whole family would be involved in the activities.As I started getting older, I developed a deeper understanding that unions were very important. They are able to protect employees from unfair treatment. Unions help to balance the relationship between companies and their employees."

Carina Christman is a School of the Arts graduate. She is attending the Rochester Institute of Technology where she plans to study film production. Carina assisted in babysitting during meetings, set up and cleaning of FSW events and picnics, attended parade walks, participated in endorsement interviews, phone banking, and door knocking, also took pictures for the Christmas party.

She shared, "I want to produce films that inspire women of color and show them the proper, good representation in media that we have been deprived of. We need to work toward a more accurate depiction of the world we live in as well as the future generations to come. I plan on using my knowledge of the labor movement to uplift the voices of minorities in fields dominated by the majority and advocate for a diverse working force in the film industry."

The Federation of Social Workers congratulates Emanual Anderson and Carina Christman on their educational efforts and wishes them success with their future endeavors.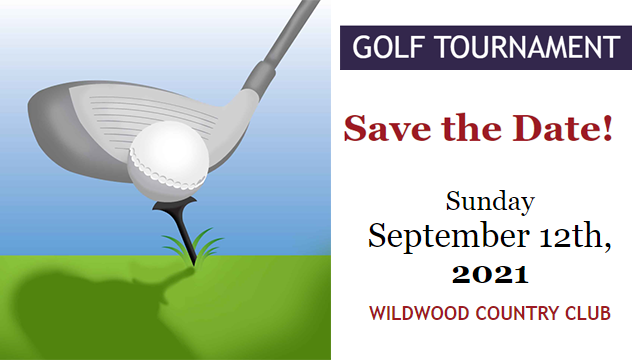 Our 15th Annual FSW Golf Tournament will be held on Sunday, September 12th at Wild Wood Country Club. Hopefully, many of you can join us again this year. The money raised by this event helps children in need in our community in a variety of ways.

If you aren't able to play, please consider some level of sponsorship or donation of a silent auction prize.

We look forward to seeing you on September 12th!

Sunday
September 12, 2021

WILDWOOD COUNTRY CLUB
1pm shotgun start
IMPORTANT UPDATE ON THE 2020-21 HUMAN SERVICE AWARDS PROGRAM!
In light of the ongoing uncertainties surrounding the COVID-19 pandemic, the Federation of Social Workers has decided to reschedule our 16th annual awards luncheon. The event is now set for Friday, October 29, 2021 at the Joseph A. Floreano Riverside Convention Center.

As a result, we have also extended the deadline for nominations in the various categories to Wednesday, September 8, 2021. To make a nomination, please click on the button below to access our online nomination form. Our honorees have traditionally come from a wide range of human service professions including social work, healthcare, education, law enforcement, legal and others. Awards are also presented to volunteers, corporate contributors, nonprofit organizations and students. Please don't hesitate to make a nomination!

During the unprecedented challenges of the pandemic, human service workers have made unimaginable and invaluable contributions to helping those in need. We are anxious to have the community identify those individuals and organizations for their extraordinary and heroic efforts, both as professionals and as volunteers.

Our Lifetime Achievement Award honoree for 2020-21 is Sister Grace Miller of the House of Mercy. The response from the community to her selection has been overwhelming!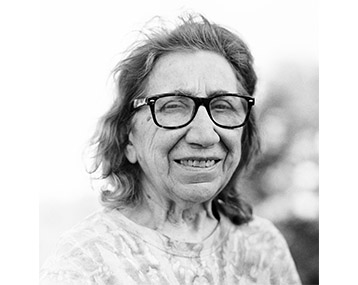 SISTER GRACE MILLER TO RECEIVE HUMAN SERVICE LIFETIME ACHIEVEMENT AWARD
The Executive Board of the Federation of Social Workers is proud to announce that they have selected Sister Grace Miller from the House of Mercy, to receive their 2020 W. Burton Richardson Lifetime Achievement Award. The award will be presented at the 16th Annual Human Service Worker of the Year Awards luncheon. Details about the award presentation format and venue will be forthcoming.

In a city ranked among the poorest in the nation, The House of Mercy is a vital refuge for people who have nowhere else to turn. It would not exist without the tireless efforts of Sister Grace Miller, the woman some people call "Rochester's Mother Teresa". The House of Mercy provides food, clothing, shelter, healthcare services and many other forms of assistance to thousands of extremely poor people in Rochester every year.

Ever since the Civil Rights movement of the 60s, Sister Grace Miller has been a strong voice in our community for the poor, the homeless, people with mental illness who have been abandoned on the streets, people of color, people who face discrimination in housing and employment, and others who have few effective advocates in a world where empathy and compassion are increasingly becoming endangered values. She has been stopping to help people for more than 50 years. She has worked 12,000 long days to help the poor. The last paycheck she took from the mission she founded - was in 1992. She has made the Rochester community a better and more compassionate place.
81381 FSW Member Contact Form
During this time of crisis, it is critical that the union has accurate and up-to-date contact information for ALL FSW members, so we can provide important updates easily and effectively. Please take a moment to complete this form with your information and encourage your colleagues to do so as well.

Your information will not be shared with anyone or used for anything other than union business.
FSW Deeply Appreciates Mask Donations
The members of the Federation of Social Workers are extremely grateful to Sheila Foery and Diane Leas for donating masks to our essential workers. Thank you so much for helping to keep our members safe!
Mask and hand sanitizer donations are still being accepted for workers.
Contact: Christina Christman at
c.m.christman@hotmail.com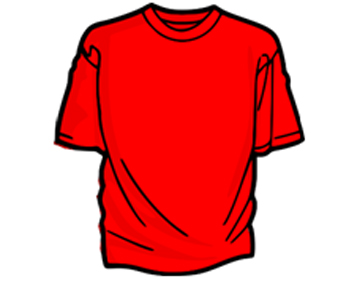 Wear Your RED Shirt on Thursday
Stuck at Home? If you are an FSW member, wear your RED Shirt on Thursday and post it on the FSW Facebook Page. Once you return to work find LaTonya, Evelyn or Michelle A for your ticket!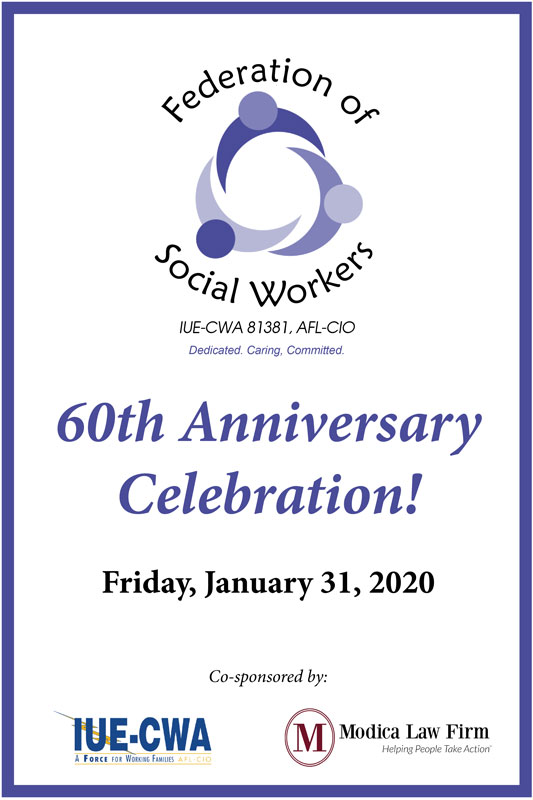 Federation of Social Workers 60th Celebration
On January 31, 2020, the Federation of Social Workers held a celebration to mark the union's 60th Anniversary! Attendees included active and retired members, as well as many past presidents and officers. We are extremely grateful to Modica Law Firm and the IUE-CWA for their co-sponsorship of this event. Their continued support of the Federation is deeply appreciated!
2019 Human Service Awards Luncheon!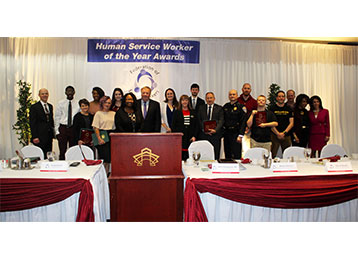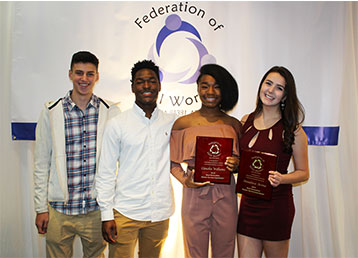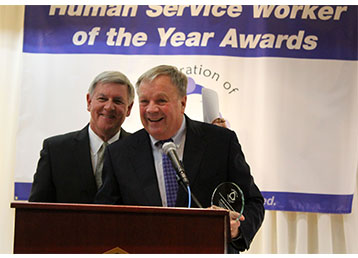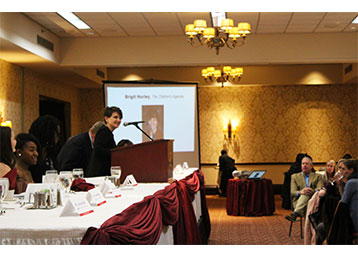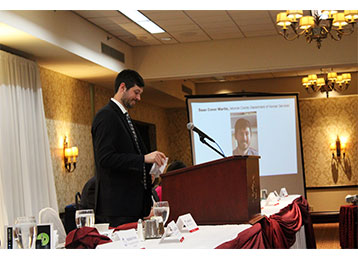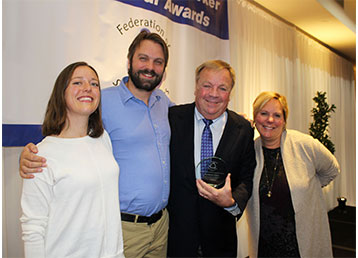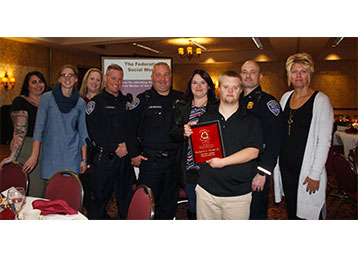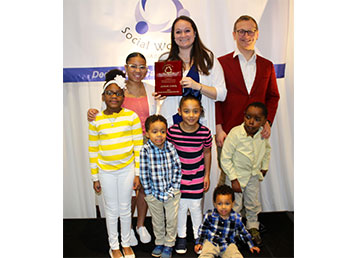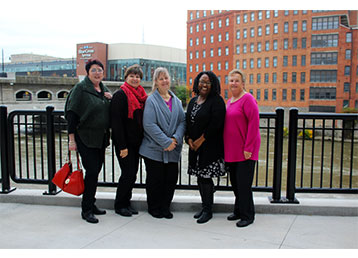 The Federation of Social Workers would like to thank all of our 2019 honorees, sponsors, attendees, nominators and those who supported this year's event in any way. As in years past, the celebration was an inspirational and memorable experience for everyone.
About The Federation of Social Workers
The Monroe County Federation of Social Workers, IUE-CWA Local 81381, is the oldest public sector social worker union in the United States of America. During our more than fifty years of existence we have provided diligent representation to our membership, which now includes more than nine hundred employees of the County of Monroe in upstate New York.

Our members are dedicated human service professionals who are both caring and committed to the entire community. Their tireless efforts at their jobs, and also as volunteers supporting many local charities, have improved the quality of life for everyone in Monroe County.