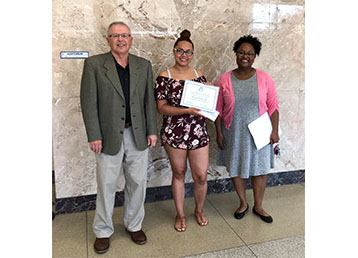 Renaja McDonald Named "Future Member of the Month" for April 2018
The Federation of Social Workers IUE/CWA 81381 were very proud, to recognize East High School senior, Renaja McDonald, as our "Future Member of the Month". Renaja plans to attend SUNY Buffalo to become a hospital social worker. She was honored for her academic and life achievements, which have been accomplished under challenging circumstances.
In this photo, Federation of Social Workers president, Kendall Bell (on the right) and FSW Retiree Council president, John Rabish (on the left) present Renaja with a certificate of recognition and a restaurant gift card.
The members of the Federation of Social Workers wish Renaja McDonald great success in her future academic work and her professional career.
Funding to support the FSW "Member of the Month" program is provided by the Federation's Retiree Council, Modica Law Firm and Edge Advertising Group.


If you would like to nominate a FSW Member who has done exceptional volunteer work or community service to be our "Member of the Month", please complete the simple online nomination form and submit it.
Thank you!