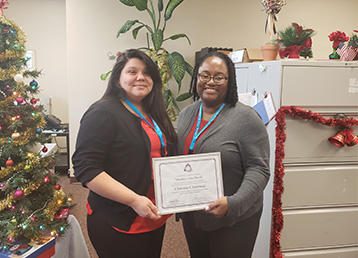 Christina Christman is the Federation of Social Workers Member of the Month for November!
Her nominators had this to say about Christina:
"Christina Christman volunteers to support, head up, and work on many activities. She is very passionate in her undertakings. Her latest contribution was putting together a panel for Schiller Park, which contains a historic landmark. She organized and got several people to help crochet squares that she put together and created a beautiful panel for the fencing around the park, which can still be viewed at the corner of Franklin and Andrews street. "
The Federation of Social Workers is proud to honor Christina Christman as our Member of the Month for November!
Funding to support the FSW "Member of the Month" program is provided by the Federation's Retiree Council, Modica Law Firm and Edge Advertising Group.


If you would like to nominate a FSW Member who has done exceptional professional, volunteer, or other community service, please fill out this nomination form.
Thank you!
Prior 2018 Members of the Month