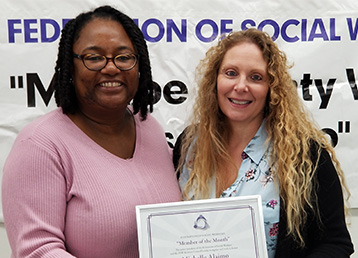 Congratulations to Michelle Alaimo our Member of the Month for January 2019!
Michelle is an excellent example of consistent, active participation in the community. You will always find her contributing or collecting something to help others, be it for Homeless Outreach, Alyssa's Angels, or Grace House to name a few. Thanks, Michelle! Your efforts are appreciated.
Funding to support the FSW "Member of the Month" program is provided by the Federation's Retiree Council, Modica Law Firm and Edge Advertising Group.


If you would like to nominate a FSW Member who has done exceptional professional, volunteer, or other community service, please fill out this nomination form.
Thank you!
Prior Members of the Month