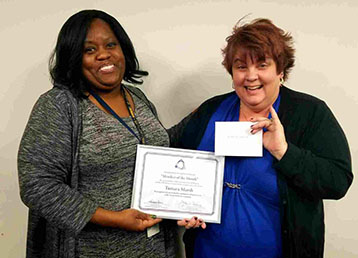 Congratulations to Tamara Marsh our Member of the Month for February 2019!
Tamara has been an indispensable part of the Monroe County Child Support Unit for 20 years. Her knowledge of Child Support Enforcement continues provided guidance and education to the Monroe County community. She has taken the role of being a mentor to new employees providing intricate training on policies, procedures, and programs used on a daily basis. Tamara's support to peers and the community is admirable.
Funding to support the FSW "Member of the Month" program is provided by the Federation's Retiree Council, Modica Law Firm and Edge Advertising Group.


If you would like to nominate a FSW Member who has done exceptional professional, volunteer, or other community service, please fill out this nomination form.
Thank you!
Prior Members of the Month