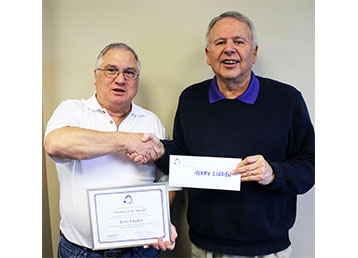 Congratulations to Terry Linden our Member of the Month for March 2019!
Terry Linden worked for the Monroe County Department of Human Services for thirty years in a variety of areas including Foster Care and Child Protective. During both his active work years, and his retirement, he has been a strong supporter of FSW programs that give back to the community. Terry has been a volunteer and participant at our annual charity golf event, and consistently donates items for its auctions and raffles. He has been a generous contributor to Alyssa's Angels in support of the important work that they do. He regularly attends and has volunteered at the FSW Human Service Worker of the Year event. Congratulations again to our Member of the Month for March, Terry Linden!
Funding to support the FSW "Member of the Month" program is provided by the Federation's Retiree Council, Modica Law Firm and Edge Advertising Group.


If you would like to nominate a FSW Member who has done exceptional professional, volunteer, or other community service, please fill out this nomination form.
Thank you!
Prior Members of the Month