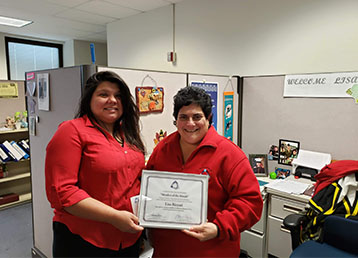 Lisa Rizzari is the October FSW Member of the Month!
Lisa Rizzari has been with Monroe County DHS for about 10 years, and currently works on the DART team Lisa is a facilitator for The Comfort Dogs Ministry. The Comfort Dogs are working Golden Retrievers, trained to interact with people suffering and in-need. They are dispatched in times of crisis to bring comfort to those people who need it most. Lisa also recently completed the Citizens Fire Academy in Gates. The Citizens Fire Academy allows residents to become more familiar with the Fire Department though 10 weeks of lectures, trainings, and first hand experiences. Lisa Rizzari's excellent community involvement makes her a very deserving Federation Member of the Month. Congratulations, Lisa!
Funding to support the FSW "Member of the Month" program is provided by the Federation's Retiree Council, Modica Law Firm and Edge Advertising Group.


If you would like to nominate a FSW Member who has done exceptional professional, volunteer, or other community service, please fill out this nomination form.
Thank you!
Prior Members of the Month