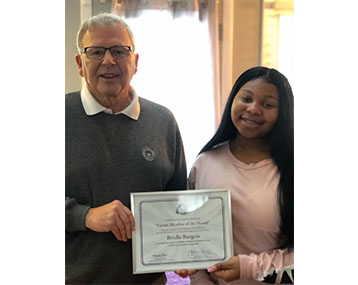 Brielle Burgess is the November FSW Future Member of the Month!
Brielle Burgess, a student at Pittsford Sutherland High School, is a wonderful example of a young person who is very much involved with both school and community activities. She is Vice President of her school's Diversity Club and is in charge of its communication and outreach. Brielle has also worked on three other important student programs: Roc2Change Summit, ROCkidsCONNECT and the City of Rochester's BizKids. She received the Pittsford Pride Award, which recognized her "connections and positive influence within Sutherland High School and our greater community". Congratulations, Brielle Burgess, on being our Future Member of the Month!
Funding to support the FSW "Member of the Month" program is provided by the Federation's Retiree Council, Modica Law Firm and Edge Advertising Group.


If you would like to nominate a FSW Member who has done exceptional professional, volunteer, or other community service, please fill out this nomination form.
Thank you!
Prior Members of the Month