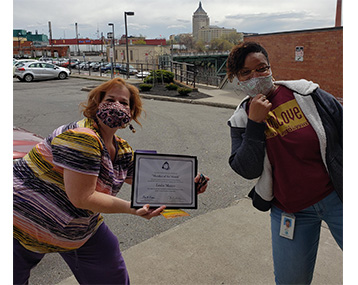 Leslie Mazzo is the April FSW Member of the Month!
The Federation of Social Workers Member of the Month for April is Leslie Mazzo! She is a senior examiner in Care Management and has worked at MCDHS for 15 years. Leslie has generously been creating and providing face masks to her co-workers during this pandemic. Outside of work, this "lacrosse Mom", also volunteers with the Boy Scouts and has assisted with make-up and costumes at childrens' school plays. Leslie Mazzo's kindness, thoughtfulness and efforts to help others, make her a very deserving FSW Member of the Month! Thank you, Leslie!
Funding to support the FSW "Member of the Month" program is provided by the Federation's Retiree Council, Modica Law Firm and Edge Advertising Group.


If you would like to nominate a FSW Member who has done exceptional professional, volunteer, or other community service, please fill out this nomination form.
Thank you!
Prior Members of the Month