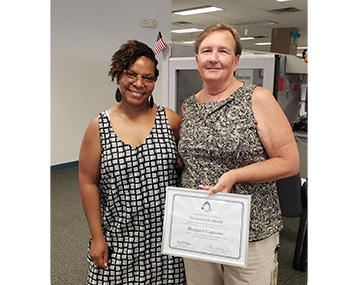 Margaret (Peg) Capuano is the June FSW Member of the Month!
Congratulations to our Federation Member of the Month for June, Peg Capuano! Peg works in Care Management and has been with MCDHS for more that 31 years. She will be retiring at the end of July. Peg has held a variety of positions with our union including President, Vice-President, Grievance Co-chair and Steward.
Peg Capuano has made tremendous contributions of service to charities and fundraising events during her career. She led FSW in organizing our Habitat For Humanity project, has volunteered at the FSW charity golf tournament every year it has been held, worked on the annual Human Services luncheon event, and has volunteered at numerous fundraising activities for both Alyssa's Angels and Christopher's Challenge. Peg Capuano is very deserving of this honor and we hope that you will join us in offering her sincere congratulations!
Funding to support the FSW "Member of the Month" program is provided by the Federation's Retiree Council, Modica Law Firm and Edge Advertising Group.


If you would like to nominate a FSW Member who has done exceptional professional, volunteer, or other community service, please fill out this nomination form.
Thank you!
Prior Members of the Month