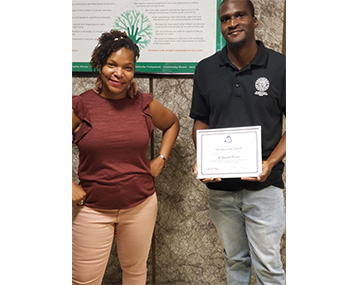 Rahsaan Pryor is the July FSW Member of the Month!
Congratulations to our July Member of the Month, Rahsaan Pryor! Rahsaan is a Senior Youth Detention Worker, who consistently goes above and beyond in his job at the Children's Detention Center. Rahsaan specifically follows up on youth who have graduated high school while incarcerated. He makes sure they are applying for jobs or pursuing higher education. Rahsaan helps them complete applications and guides them through the process. He supports and guides them, when so many others have given up on them. Rashaan recently graduated from MCC himself, and we would also like to give him a huge congratulations for that. Thank you, Rahsaan Pryor, for your service to our community and for helping to improve the quality of life for others!
Funding to support the FSW "Member of the Month" program is provided by the Federation's Retiree Council, Modica Law Firm and Edge Advertising Group.


If you would like to nominate a FSW Member who has done exceptional professional, volunteer, or other community service, please fill out this nomination form.
Thank you!
Prior Members of the Month