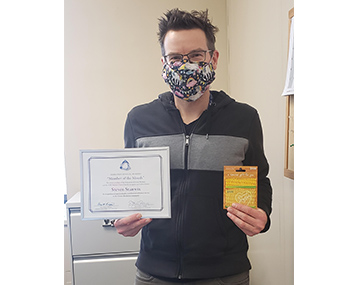 Steven Stanwix is the FSW Member of the Month for February!
Steven Stanwix has been at MCDHS for more than 9 years and is currently an Examiner on the Senior Plus Undercare Team. He is thought of very highly at his job, as evidenced by having received multiple nominations for this award. His nominators described him with these words of respect and appreciation: "Steven goes above and beyond to assist his clients/representatives/co-workers. He is a wealth of knowledge and is often the first person to assist new examiners in understanding programs. Steve Stanwix is always willing to give a helping hand and offer insight. I, myself, am fairly new to the department and I speak from personal experience, when I say he has been a GREAT help to me and continues to be a supportive co-worker. When Steve sees you struggling, it's nothing for him to stop what he is doing and assist you. His attitude towards helping others is nothing short of amazing!"
Congratulations, Steven, on being a well-deserved FSW Member of the Month!
Funding to support the FSW "Member of the Month" program is provided by the Federation's Retiree Council, Modica Law Firm and Edge Advertising Group.


If you would like to nominate a FSW Member who has done exceptional professional, volunteer, or other community service, please fill out this nomination form.
Thank you!
Prior Members of the Month