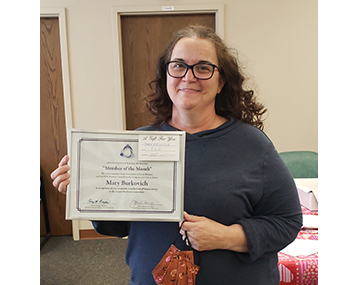 Mary Burkovich is the FSW Member of the Month for March!
Mary Burkovich has worked at the Monroe County Department of Human Services for more than twelve years. She is currently a caseworker in Foster Care Intake. Her nominator had this to say about her: Mary Burkovich is the ultimate team player and works tirelessly to ensure that the needs of the children placed in foster care are fully met. She also volunteers to work with other volunteers on Foster Care After Hours. Mary takes on-call shifts during nights, weekends and holidays. She volunteers to staff the hospital at night and during the wee hours of the morning to care for children who are in medical or psychiatric crisis. Mary will also frequently spend her own money to buy lunches and snacks for the children. The children (and her co-workers) know that she truly cares!
Funding to support the FSW "Member of the Month" program is provided by the Federation's Retiree Council, Modica Law Firm and Edge Advertising Group.


If you would like to nominate a FSW Member who has done exceptional professional, volunteer, or other community service, please fill out this nomination form.
Thank you!
Prior Members of the Month