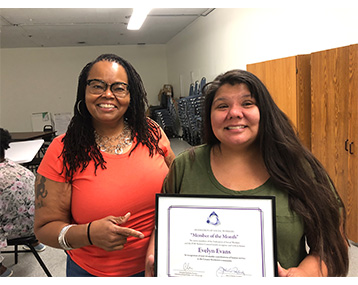 Congratulations to Our September Member of the Month: Evelyn Evans!
Evelyn Evans recently retired after working for Monroe County for more than 35 years. She has been a union activist for 25 years, holding multiple union positions including president and is currently our treasurer.
Evelyn is also currently volunteering on the boards of Coalition of Black Trade Unionists (CBTU) as a trustee and with Metro Justice, as the president of their council. She previously volunteered on the boards of Alyssa's Angels, as well as the national and local chapters of the Coalition of Labor Union Women (CLUW).
Evelyn Evans is a very deserving Member of the Month. Please join us in congratulating her!
Funding to support the FSW "Member of the Month" program is provided by the Federation's Retiree Council, Modica Law Firm and Edge Advertising Group.


If you would like to nominate a FSW Member who has done exceptional professional, volunteer, or other community service, please fill out this nomination form.
Thank you!
Prior Members of the Month