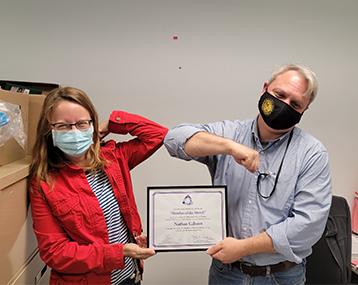 Congratulations to Nathan Gibson, FSW's Member of the Month for October!
Our October honoree, Nathan Gibson, has been at MCDHS since 2016, and works as an examiner in Medicaid. His nominator had this to say about him: "Nathan Gibson is an excellent co-worker and a highly productive public servant. His dedication to his job during the pandemic has been exemplary. No matter how stressful the circumstances are, he comes to work prepared to help nursing home residents receive prompt service when they apply for Medicaid. His calm demeanor and steady willingness to help his co-workers has been a blessing. Nathan assists new employees, takes responsibility for extra work without seeking credit, and quietly corrects mistakes without making other workers feel diminished."
Clearly, Nathan Gibson is an extremely deserving Member of the Month! Congratulations again, Nate, and thank you for your service to our community!
Funding to support the FSW "Member of the Month" program is provided by the Federation's Retiree Council, Modica Law Firm and Edge Advertising Group.


If you would like to nominate a FSW Member who has done exceptional professional, volunteer, or other community service, please fill out this nomination form.
Thank you!
Prior Members of the Month