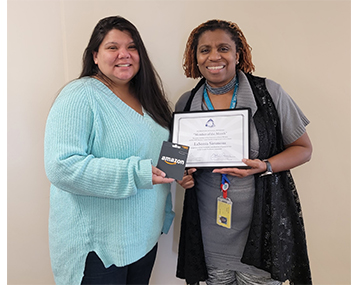 Congratulations to LaSonia Simmons, FSW's Member of the Month for November!
LaSonia Simmons has been working at the Monroe County Department of Human Services for almost 17 years. She is currently a Senior Caseworker in Child Protective Services. LaSonia has held a number of different positions in our union, and is a Grievance Co-Chair at the present time. Her nominator had this to say about her:
"LaSonia serves the community in many capacities in addition to her career in Child & Family Services. She is a Girl Scout Troop leader for the Williams Park Service Unit and PTO president at Rochester Early College. LaSonia also serves as Treasurer for the Rochester Jewels program which mentors young ladies in the Rochester area and is also a founding board member of Organizing Youth, Impacting Neighborhoods which operates in the south side of Chicago. In her spare time she is also a leader in the Children's Ministry at The Fathers House for babies to preschool age."
Congratulations to LaSonia Simmons on being honored as our November Member of the Month!
Funding to support the FSW "Member of the Month" program is provided by the Federation's Retiree Council, Modica Law Firm and Edge Advertising Group.


If you would like to nominate a FSW Member who has done exceptional professional, volunteer, or other community service, please fill out this nomination form.
Thank you!
Prior Members of the Month