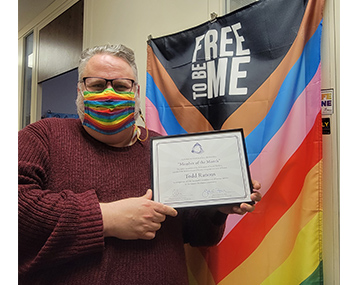 Congratulations to Todd Ranous, FSW's Member of the Month for December!
Todd Ranous has worked at MCDHS for more than 20 years. He is currently a senior caseworker working as a "matcher" in Foster Care Homefinding and on After Hours as well. His nominator had this to say about him:
"Todd has truly gone above and beyond in advocating for LGBTQ+ youth in our community. He started a workgroup consisting of providers, advocates, and youth to identify and streamline services in our community when he realized youth (and parents) were not sure of how to obtain needed support. He was integral in having new caseworkers receive gender and identity training to further support the children and families they serve. Todd has also held numerous fundraisers for inclusive Proms in our area. You can find him recruiting for Foster Parents and Caseworkers at almost any Pride event in Rochester as well."
Congratulations to Todd Ranous on being our 2021 December Member of the Month! The FSW deeply appreciates all that you do for our community!
Funding to support the FSW "Member of the Month" program is provided by the Federation's Retiree Council, Modica Law Firm and Edge Advertising Group.


If you would like to nominate a FSW Member who has done exceptional professional, volunteer, or other community service, please fill out this nomination form.
Thank you!
Prior Members of the Month