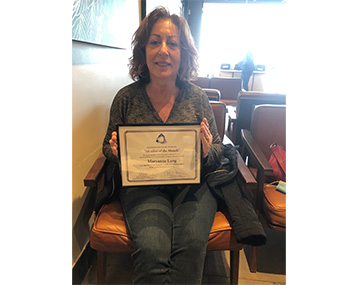 Maryanne Lang Is the FSW Member of the Month for January!
Maryanne Lang, a member of the FSW Retirees Council, worked at Monroe County DHS for 38 years as a Clerk and an Examiner. She was in a variety of areas including Income Maintenance, Medicare Accounting and on a team which worked with clients struggling with drug and alcohol issues.
Maryanne's commitment to helping people with addiction problems has continued in her retirement, as she has been a regular and frequent volunteer for years at the House of Mercy. Her other life passion is animal rights and she is a fierce advocate for their compassionate care and treatment.
Please join us in congratulating Maryanne Lang as a very deserving Member of the Month!
Funding to support the FSW "Member of the Month" program is provided by the Federation's Retiree Council, Modica Law Firm and Edge Advertising Group.


If you would like to nominate a FSW Member who has done exceptional professional, volunteer, or other community service, please fill out this nomination form.
Thank you!
Prior Members of the Month