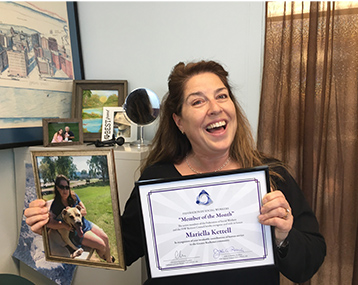 Mariella Kettell is the FSW Member of the Month!
Our April honoree is being recognized for both her great work at MCDHS and her dedication to animal rescue. Mariella is a supervising examiner in the Medicaid division and is a 20 year veteran at Monroe County. Here is what her nominator had to say about her:
"Mariella has a contagious passion for rescue work with animals. She has traveled to Rhode Island to volunteer with the Handsome Dan organization and locally collects donations for Verona St and has volunteered with K9 Orphans Inc. She adopted a rescue dog herself from Verona St and has inspired not only her sister and husband to volunteer/donate/adopt but many coworkers as well. She helped to coordinate several donation drives throughout DHS and looks to continue to get more community members involved in saving animals." Please join us in congratulating Mariella Kettell for the great contributions she is making to our community!
Funding to support the FSW "Member of the Month" program is provided by the Federation's Retiree Council, Modica Law Firm and Edge Advertising Group.


If you would like to nominate a FSW Member who has done exceptional professional, volunteer, or other community service, please fill out this nomination form.
Thank you!
Prior Members of the Month