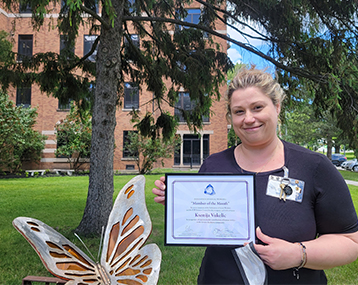 Ksenija Vukelic Is our FSW Member of the Month for May!
Ksenija Vukelic has been a Medical Case Manager at the Monroe Community Hospital for the past 12 years. Prior to that she worked at Highland Hospital, so she has a long career of providing medical support for those in need. She is highly respected by her co-workers for her tireless dedication to her patients. Her nominator had this to say about her:
"Despite the strenuous challenges caused by COVID, Ksenija Vukelic continues to successfully advocate for her patients- especially when insurance companies abruptly discontinue coverage of skilled care. She enthusiastically greets all anticipated and unanticipated obstacles methodically and efficiently. She consistently helps her patients and their families navigate through challenges of managed care, safe discharge planning, social, socioeconomic and cultural struggles. Regardless of her chaotic days, Ksenija never misses an opportunity to offer support to her colleagues. Ksenija is undoubtedly a talented and valued employee."
Please join us in congratulating Ksenija Vukelic on this well-deserved honor!
Funding to support the FSW "Member of the Month" program is provided by the Federation's Retiree Council, Modica Law Firm and Edge Advertising Group.


If you would like to nominate a FSW Member who has done exceptional professional, volunteer, or other community service, please fill out this nomination form.
Thank you!
Prior Members of the Month