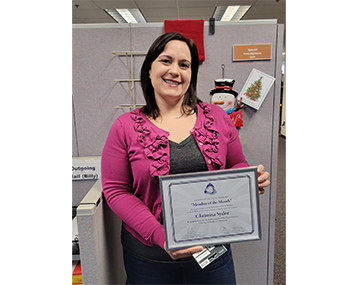 Our FSW Member of the Month for January is Christina Sydor!
Christina Sydor has worked at MCDHS for 13 years and is currently a fraud investigator in SIU. Her contributions of service to the community, beyond her important job, are very impressive. They include:
* During the pandemic, Christina helped elderly and vulnerable people who needed to submit legal documents, but could not go out in public due their vulnerability to infection, by making home visits as a notary. On New Years Day, she and one of her fellow investigators visited homeless people residing at Motel 6 and brought them sparkling cider and confetti.
* Participation in charity events such as: Buffalo Ice Cycle-Roswell Park Comprehensive Cancer Center, RPD Sweat for SWAT- 911 memorial work out (proceeds to local first responders), Mammoth March: 20 mile timed trail hike (One Tree Planted-aids efforts of reforestation, conservation and protection of endangered forests), Muddy Princess obstacle course mud run (National Breast Cancer Foundation, Inc), secondhand dog rescue: home visits/inspections for prospective adoption, and the Fast and the Furriest (Verona St. Animal Shelter)
* Various DHS voluntary projects including: Covid transports (bringing homeless individuals to the covid hotel for quarantine), Covid grocery delivery (shopping for and delivering groceries and medication to quarantined Monroe County residents), Homeless outreach- Monroe County EO151/code blue, Emergency motel/hotel housing placement room checks, Civic Center Garage homeless relocation initiative, and Monroe County toy give away home delivery.
Without a doubt, Christina Sydor is an extremely deserving Member of the Month!
Funding to support the FSW "Member of the Month" program is provided by the Federation's Retiree Council, Modica Law Firm and Edge Advertising Group.


If you would like to nominate a FSW Member who has done exceptional professional, volunteer, or other community service, please fill out this nomination form.
Thank you!
Prior Members of the Month