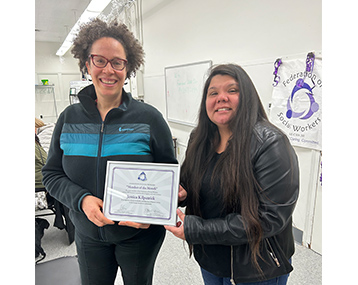 FSW Member of the Month for February is Jessica Kilpatrick!
Jessica Kilpatrick is a Senior Caseworker on the Child Protective Training team. She has been working at MCDHS for nine years. Jessica also serves as the FSW Mobilization Chair.
Jessica Kilpatrick has been one of the union's strongest and most consistent voices informing the community about staffing issues at MCDHS. She has regularly spoken at meetings of the County Legislature regarding the impact of inadequate staffing and resources on those in greatest need in our community. Her contributions of personal time and effort have been exceptional. Congratulations on this honor, Jessica, and thank you!
Funding to support the FSW "Member of the Month" program is provided by the Federation's Retiree Council, Modica Law Firm and Edge Advertising Group.


If you would like to nominate a FSW Member who has done exceptional professional, volunteer, or other community service, please fill out this nomination form.
Thank you!
Prior Members of the Month