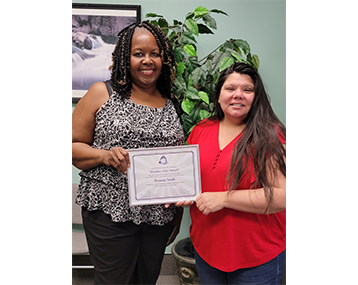 Bonnie Swift is the FSW Member of the Month for March!
Bonnie Swift worked at DHS for a little over 37 years. She was a Child Protective Caseworker who worked in Investigation for almost 24 years, which made her a legend!
In addition to her professional work, Bonnie also gives back to the community in other ways. She volunteers 3-4 times a week at North Greece Rd Church of Christ located @ 1039 N. Greece Rd, working in the Pantry giving out food baskets, preparing the baskets of food, going to pick up the food & bringing it back to the Church to pack!
Bonnie also volunteers @ Meals for the Homeless. She cook meals and serves as well, usually 2-3 times a week. She volunteered at Greater Harvest Church, with the Seasoned Saints Program on weekly basis also.
As you can see, Bonnie Swift is a very deserving honoree! Please join us in congratulating her!
Funding to support the FSW "Member of the Month" program is provided by the Federation's Retiree Council, Modica Law Firm and Edge Advertising Group.


If you would like to nominate a FSW Member who has done exceptional professional, volunteer, or other community service, please fill out this nomination form.
Thank you!
Prior Members of the Month