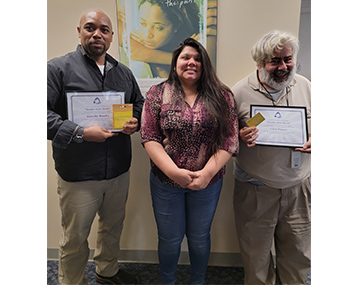 Chris Palozzi and Timothy Buntley are the FSW Members of the Month for April!
Our members of the month for April are Chris Palozzi and Timothy Buntley. Chris is an emergency housing specialist, who has worked at MCDHS for more than 23 years. Timothy is an examiner who has been with MCDHS for two years. These two members leapt into action to put out a fire on their team at St Paul St on April 10th, 2023. One of the Emergency Housing After Hours laptops was charging when it suddenly exploded in the cubicle, with the falling debris causing a chair to catch on fire. Thankfully no one was in the cubicle and no one was injured from this incident. Chris ran right over and started to stomp out the fire while Tim went to get the fire extinguisher and finished putting it out. Their quick thinking and bravery prevented the fire from spreading. Their bravery and quick response make them both very deserving Members of the Month!
Congratulations to you both!
Funding to support the FSW "Member of the Month" program is provided by the Federation's Retiree Council, Modica Law Firm and Edge Advertising Group.


If you would like to nominate a FSW Member who has done exceptional professional, volunteer, or other community service, please fill out this nomination form.
Thank you!
Prior Members of the Month