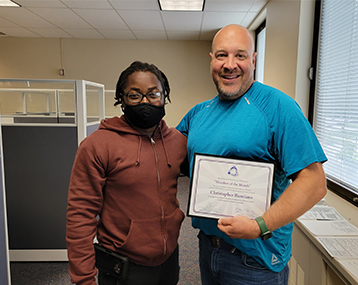 Our FSW Member of the Month for June is Christopher Rumiano!
Christopher Rumiano has worked at MCDHS for 14 years, and is currently an Examiner on the Self-Sufficiency team. His nominator described him as someone who truly enjoys providing important and invaluable assistance to the clients that he serves. Chris gives back to the community by being heavily involved in youth sports programs. He serves as an assistant coach for a travel soccer team and also as a volunteer for a youth lacrosse team. Your contributions helping others are greatly appreciated, Chris.
Congratulations on being our Member of the Month!
Funding to support the FSW "Member of the Month" program is provided by the Federation's Retiree Council, Modica Law Firm and Edge Advertising Group.


If you would like to nominate a FSW Member who has done exceptional professional, volunteer, or other community service, please fill out this nomination form.
Thank you!
Prior Members of the Month