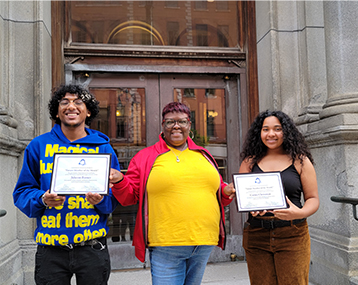 FSW HONORS TWO "FUTURE MEMBERS OF THE MONTH" FOR JULY!
Carina Christman and Jaheem Barnes have been selected to be recognized by the Federation of Social Workers as "Future Members of the Month". You may have seen Carina and Jaheem at many FSW and Labor Council events helping out, including picnics, parades, parties, political canvassing and phone banking, rallies, pickets and even attending City Council and County Legislature meetings. They have both been community focused and politically conscious since they were very young. Carina and Jaheem have served as student representatives for various boards and organizations, ensuring that the concerns and ideas of themselves and their peers would be considered in decision-making. They are also active volunteers in the community:
Jaheem's favorite is the Holiday Toy Giveaway with DHS and The Pirate Toy Fund and Carina's is ushering at The Jazz Fest. Clearly, these two fine young people are very deserving of being honored!
Funding to support the FSW "Member of the Month" program is provided by the Federation's Retiree Council, Modica Law Firm and Edge Advertising Group.


If you would like to nominate a FSW Member who has done exceptional professional, volunteer, or other community service, please fill out this nomination form.
Thank you!
Prior Members of the Month